"Shadow Trapunto Quilts: Simple Steps, Remarkable Results - 30 Elegant Projects", by Geta Grama, published by CT Publishing is a new quilting book that will help quilters create stunning quilts. This new quilting book, with very unique and inspirational designs, which I previously wrote a
review
on is also a prize for this weeks' Fun Friday Giveaway, which is sponsored by Geta Grama.
While you may or may not be familiar with techniques for incorporating trapunto into your quilts, Geta takes the Trapunto quilting technique further than I've ever seen before, and shares her insights on how to make stunning quilts through the 30 projects she shares in this book, along with all her tips and insights.
This inspirational book also includes a CD that allows you to print off the designs for the 30 projects to create full-size projects that are covered in this book. Projects range in size from 4"x6" (postcard) to 34"x34".
Geta has published various patterns and e:books with fun designs. But, I am truly delighted that she has shared her insights on Trapunto, through this new book "Shadow Trapunto Quilts". I am confident this book will be the inspiration for many future award winning quilts at various quilt shows.
I was delighted when Geta offered to sponsor a giveaway for SewCalGal followers, whereby they could win a copy of Geta's amazing new book "Shadow Trapunto Quilts.
If you are interested in winning a copy of this book, simply leave a comment on this post and be sure I have a way to contact you (e.g. no reply blog settings are not eligible to win).
Want a 2nd entry: Follow
Geta's blog
and leave a comment, to enter the giveaway for a copy of this book on her blog, and come back and leave a comment on this post, to claim a 2nd entry. This gets you a double chance to win a copy of this book on this blog, plus a chance to win a copy on Geta's blog.
And, for fun, you can find Geta at:
website:
www.RomanianQuiltStudio.com
Geta's Quilting Studio:
http://cadouri-din-inima.blogspot.com
Pinterest
http://pinterest.com/getagrama/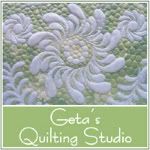 Geta also has a
giveaway on her blog
, where a winner could win a copy of her book and winner(s) could win some samples that she created to help write this book. I hope you'll pop on over to her blog and enter ASAP, but I also hope you'll follower her blog as she truly has a delightful and inspirational blog.
Lastly, I want to provide insights on winners of recent Fun Friday Giveaways:
Aurifil Giveaway for Invisible Thread
Five winners will receive two spools of Aurifil Invisible thread, one in clear and one in dark, both with 1094 yards - 1000 mt.
The winners are:


DebrafromMD




Pippa Parsons




Phyllis




Stevii




marilyn
One lucky winner will receive two large spools of Aurifil Invisible Thread, one in clear and one in dark, both with 16400 yards - 15000 mt.
winner:


Kd Brown
One lucky winner will receive "Simple Stitches" collection, by Pat Sloan. This collection of cotton threads contain 10 spools of 40 wt. Mako thread, 150 yards each.
winner:


Barb
Colonial Blog Hop Giveaway for Notions
Winners for this giveaway were to be selected based on the best guess for the number of pins that the Colonial Needle horseshoe magnet was able to hold. To my amazement it held 20 and probably could have held more, but it was an even 20 that I had on my sewing table and needed to pick up. Pretty impressive for such a little magnet! The five winners were selected as follows:
Two winners correctly guessed the number of pins:
Deb and

Bente-I like to QuiltBlog
Three additional winners were ranomly selected from all of the entries
Paulette (Sweet P Quilting)


Nina Lise@Mrs Moen


Rita in Alaska (akgranny)
I will be sending an email out to these lucky winners this weekend, to confirm that they want to claim their prize and obtain their mailing address. If they do not respond within 3 days, another name will be drawn.