"
Shadow Trapunto Quilts: Simple Steps, Remarkable Results - 30 Elegant Projects
", by Geta Gama, published by CT Publishing is a new quilting book that will be released February, 2012.
Geta lives in Romania and began crafting in 2000. She has an inspirational blog (
Getas Quilting Studio
), where she shares insights on her spectacular quilts, as well as sharing tips and tutorials. Needless to say, I was excited to see Geta share her expertise with Trapunto Quilts through publishing her first quilting book with CT Publishing. And, I was very happy to have a chance to review an Advanced Reading Copy of this book too, so that I could share insights with you today.
"Shadow Trapunto" is excellent quilting book for quilters looking for fun and creative projects that will certainly capture the attention of quilters and non-quilters, for their beautiful designs. I also believe this book is going to provide inspiration to many quilters that create award winning quilts based on designs in this book.
There are 30 elegant projects with easy to follow instructions and excellent visuals in this book, along with an amazing photo gallery that provides great inspiration.
You'll also find a nice section on Machine Stitching, Quilting and Finishing.
The CD that will be included in the published version of this book (not included in my Advanced Reading Copy) will allow you to print off the designs for the 30 projects to create full-size projects that are covered in this book. Projects range in size from 10"x105" to 21"x44".
This is an excellent new quilting book that I hope you have a chance to check out at your local quilt store, or at
CT Publishing's online store
. I'm certainly happy to have Geta share her expertise on Trapunto Quilts in her first quilting book with CT Publishing. And, I also hope that she'll write more quilt books in the future. I'm particularly hoping that she will write one that shares her insights on free-motion quilting too!
You can find Geta at:
website:
www.RomanianQuiltStudio.com
Geta's Quilting Studio:
http://cadouri-din-inima.blogspot.com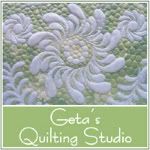 Pinterest
http://pinterest.com/getagrama/
You can also place your pre-order for this book with CT Publishing.