As a frugal quilter I do try to take advantage of steals and deals, when I can. And, as a blogger, I also enjoy sharing such deals with you. But sometimes I come across them, when I already have something else planned to share. Thus, earlier in 2014, I launched Fingertip Shopping where I only blog when I come across a good sale that might be of interest. If you are also a frugal quilter (or crafter) you may want to follow Fingertip Shopping. I know many have taken advantage of my annual research for #BlackFriday or #CyberMonday sales, as well as various steals and deals that I share throughout the year. Of course, I also try to share these on twitter and Facebook, but I sometimes barely have enough time to blog about them, so the best way to find out about such deals is to follow Fingertip Shopping!
Speaking of such steals and deals, did you know the Fat Quarter Shop had a 50% off Aurifil sale yesterday? Yeap, I shared it on Twitter and Facebook, but as it was a Flash Sale for only one day I didn't have time to blog about it. (sorry).
Today I wanted to share a sneak peak with you on the 2015 Free-Motion Quilting Challenge. And as this sneak peak pertains to Craftsy, I also wanted to share with you insights on their Best of 2014 Sale that is going on thru December 25th. Plus, don't overlook that you can also purchase a class for a gift!
If you participated in the 2012 or 2013 FMQ Challenge, you are familiar that every month I released a new tutorial and challenge. Those tutorials are still available and many will be incorporated into the 2015 FMQ Challenge. Starting January lst, each month a challenge will be released and they'll be five ways to participate where you can learn and/or improve your FMQ skills, have fun, and enter to win prizes. You can complete one of the five options, or all five. The more you complete the more entries you'll get to win prizes. And, all of the options will result in making a pillow that incorporates a specific FMQ challenge. So you'll end up with beautiful pillows to decorate your home or give away as gifts.
While many of these monthly challenges will incorporate free tutorials from the 2012 or 2013 FMQ Challenges, some will incorporate options of using DVDs or books from FMQ Experts, and some will incorporate classes, specifically classes from Craftsy that are taught by FMQ Experts! If you have already taken FMQ Classes at Craftsy you know how wonderful these classes are and that they can be flexible for you to complete at your liesure and repeat as often as you like.
If you have not yet taken a FMQ class with Craftsy, or maybe you want to take more classes this year, today is a great day to sign up as ALL Craftsy classes are offered at the best sales price that they've ever been offered in 2014! Of course, they also have a great deal on fabrics and notions, including Aurifil thread.
While SewCalGal recommends Craftsy in general, for those interested in participating in the 2015 FMQ Challenge you may want to consider taking any/all of the FMQ classes on Craftsy, particularly classes taught by:

Cindy Needham, Leah Day, Patsy Thompson, Angela Walters, Christina Cameli, but I'm sure you'll have fun learning and creating by taking any class on Craftsy.
Full Disclosure: I am an Affiliate with Craftsy. I signed up after seeing the excellent value and benefits of taking classes at Craftsy. When someone clicks thru my site to purchase a class, fabric or notion you pay the same price as if you had visited the Craftsy site directly, or clicked thru from another Affiliates' site. Affiliates receive a small % back and I use those funds towards supplementing shipping costs for when I pay to ship prizes to winners of contests and giveaways I host. These funds do not cover all my shipping expenses, but are appreciated. To clarify, those that remember to click from my blog to Craftsy, when purchasing a class, fabric, or notion are what I view as "Postage Angels" as they help to pay for postage for those that win prizes from this blog. And, they allow me to keep hosting such events.
Here is an official announcement from Craftsy about this sale:
Get the gift you really want during Craftsy's Best of 2014 Sale happening now through Christmas! Treat yourself while ALL our classes are $19.99 or less, so you can make your best projects in 2015. Shop now to stock up and save.
Once you enroll you'll own your Craftsy classes forever, so you can watch them at your pace in the comfort of your home, anytime. Hurry, offer expires 12/25/14 at 11:59 PM MT.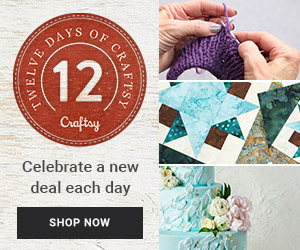 All categories of #CreativeGoodness are on sale at Craftsy. You can click the Craftsy button above, or any of the text strings below to visit the Craftsy site from this blog. I've also added a button on the upper sidebar for Craftsy:
Knitting and Crochet: Craftsy's Best of 2014 Sale




Quilting, sewing and embroidery: Craftsy's Best of 2014 Sale




Jewelry and paper crafts: Craftsy's Best of 2014 Sale




Gardening and woodworking: Craftsy's Best of 2014 Sale




Cake Decorating and cooking: Craftsy's Best of 2014 Sale




Photography, painting and drawing: Craftsy's Best of 2014 Sale




Craftsy's Best of 2014 Course Sale - $19.99 or less!